Mountain spirit nourished at the Spa at Breckenridge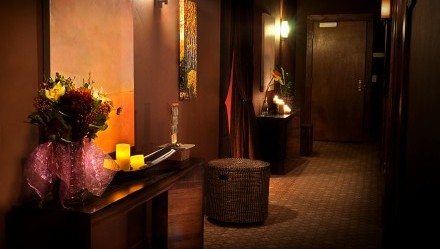 Rejuvenate in the walls of our calming retreat and bring out the best in you.
Perfect Breckenridge Spa Experience
Nature Inspired

Drawing its inspiration from the magnificent mountains and lodgewood pine forests, The Spa at Breckenridge creates a true Mountain Spa experience.

Natural Wood and Chocolate

Nestled at the base of the 4 O'Clock lift, inside the Blue Sky building, timeless natural wood frames the deep red and chocolate walls, adding to the unique ambiance of our Breckenridge Spa.

A Mountain Sanctuary

A one-of-kind-sanctuary where tension, stress and discomfort evaporate through massage and facial treatments, allowing your body find an incredible place of renewal.
The Spa at Breckenridge Services
Did You Know?
All of the wall art in our Breckenridge Spa is created by local artists
We shop local. Because it's good for all of us….it's that simple.
For every $100 spent at locally-owned businesses, $73 of it stays here in Breckenridge through taxes, payroll and other expenditures. Keeping your business in Breckenridge is what allows our businesses to stay open, it's what helps pay for our beautiful mountain resort, it's what drives tourism and it helps us support sustainable mountain business.
Our Breckenridge Spa Director
Heidi Hurst – Spa Amazing
It's really that simple. In a previous career, Heidi Hurst traveled the globe, and had the opportunity to visit the best spas in the best hotels across the world.
Now, she's returned to Breckenridge, and opened her own private day spa here, The Spa at Breckenridge.
Revive your inner peace, and enjoy every moment here.